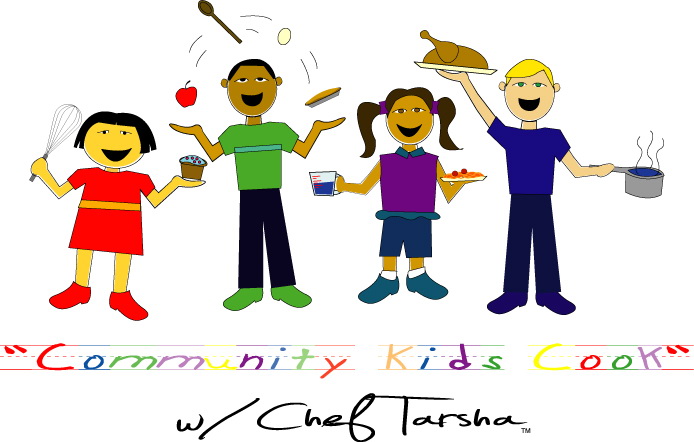 "Community Kids Cook w/ Chef Tarsha" is a healthy food education program with its target demographic focused on urban youth.  The program's objective is to enrich youth by offering life skills education and training with a focus on prevailing youth related issues surrounding HEALTH, NUTRITION and the PREVENTION of CHILDHOOD OBESITY.
We have developed a specific culinary teaching model designed to reinforce core academics (i.e. reading, writing and math) coupled with practical and artistic developmental skills.  Equally important is an undercurrent philosophy engaging the value of family bonding opportunities realized through cultivation and preparation of healthy nutritious food.
Youth benefits:
Receiving an educational experience that will help guide their cognitive and practical perspectives related to independent healthful consumption and the nutrition of their family units.
Highlighting answers to the questions:
Where does our food come from?
What are the benefits of fresh organic & locally grown food?
Practical solutions:
Fostering critical thinking and development; writing recipes and hands-on food preparation techniques.
"Bridging the gap between misinformation and healthy food exposure, "Community Kids Cook"
is teaching your kids to cook with healthful confidence!" —Chef Tarsha Gary, Founder